Social media has become an indispensable part of any marketing strategy. That's why there are continued efforts to improve the tools and the technology to make the most of these kinds of platforms.
And with the deprecation of cookies, social media has become a very important method to gather first-party data.
But, why?
First of all, people have become tired of third-party companies taking their data with no consent and there's an increasing appreciation for transparency and privacy in the digital space. Moreover, social media focuses on the interaction with your audience and consumers, so the data collected doesn't rely on cookies.
In fact, social media allows you to easily extract information about your audience. That's why it's considered to be a great source of first-party data.
As we explained in another article, there are other sources that can be extremely useful to obtain first-party information for your marketing strategy, and that is CRM.
What is first-party data?
First-party data is all the information from your audience that they've provided to you willingly and in a direct way. It includes information about the user's name, email, address, phone number, etc, and it can come from multiple sources.
However, the main source where businesses can find their users' first-party data is CRM.
That's why CRM data is so crucial. We're talking about information that is constantly changing and being updated every day as it follows the actions of the users and consumers that interact with your brand and your business.
This means that thanks to CRM data, you can learn a lot of information about new purchases, leads, returning customers, etc.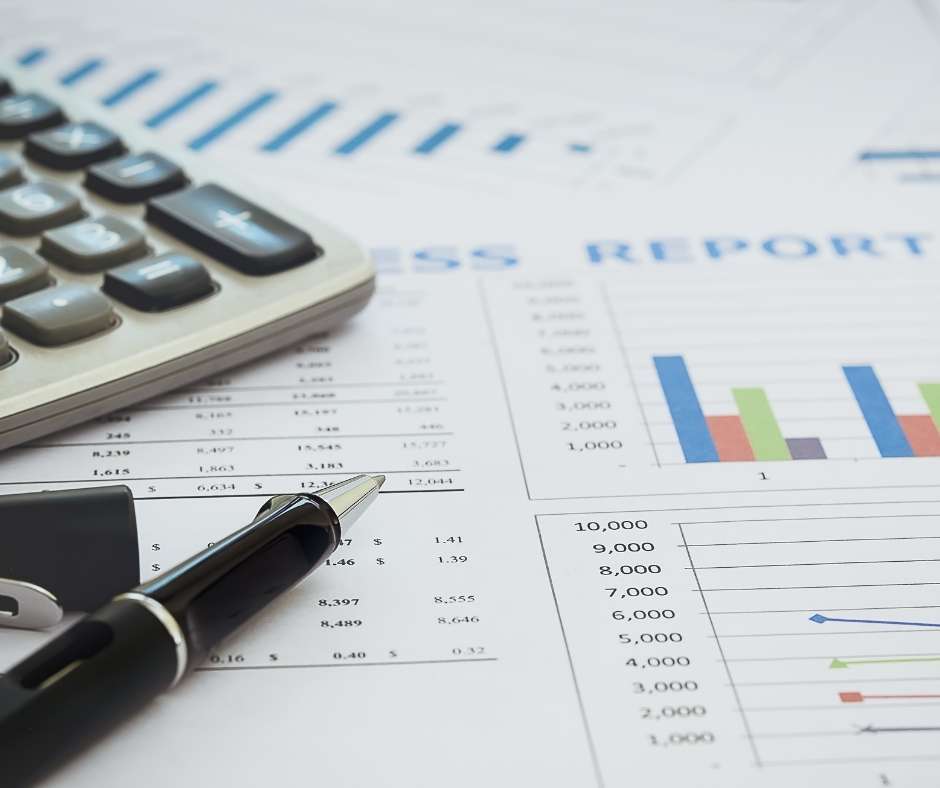 How does CRM data affect your social campaigns?
Using relevant data about your consumers is crucial to create successful social campaigns. First-party data is definitely the most reliable type of information you can collect and use afterwards.
Let's take a look at the table below for an example of an e-commerce clothes site: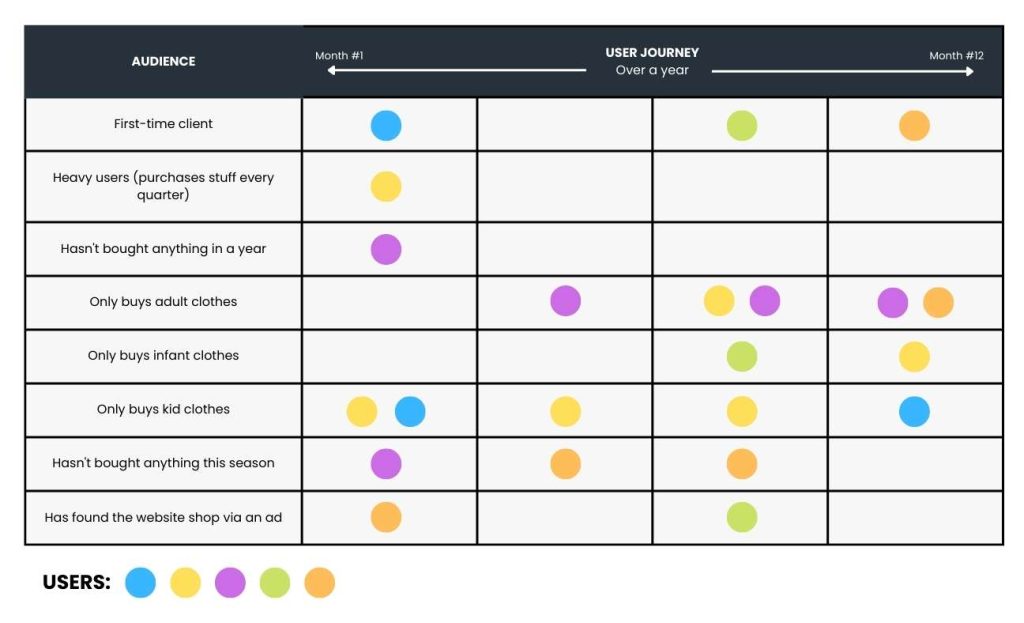 When looking at the CRM data from this clothes shop, we can find different users moving through the website and their different journeys:
The blue user, for instance, is a first-time client and has bought kids clothes at the beginning and the end of the year. This gives us information about the person. They probably have kids within a specific age range and may live in a colder country.
The purple user is a customer that hasn't bought anything from the shop in a year but, starting the second quarter of the year, they become a heavy user, purchasing clothes every season. This can give us insights into their purchasing power and consumer habits.
The orange user, on the other hand, has found the website through an ad. While they didn't purchase anything in the following months, they made a purchase during the last quarter of the month. We can assume that they've probably bought gifts for upcoming holidays such as Thanksgiving or Christmas and this can give us insights about their personality, family, friends, etc.
Knowing the dynamic behavior of your customers will definitely help you determine what kind of strategy to use for your CRM and social campaigns.
So now you can just can upload all the information to Meta, right? Not exactly.
Making the most of your data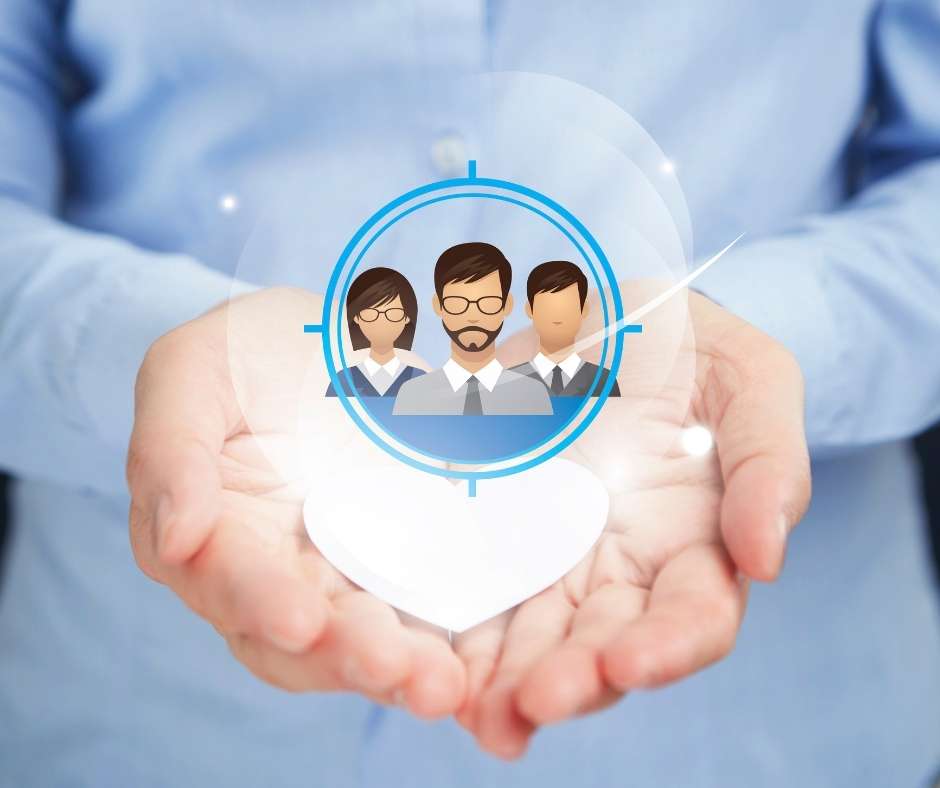 CRM data consists of a lot of gathered information. So it's nearly impossible to extract and upload all of it manually.
The data must be processed in a dynamic way. This means that the place where you upload your first-party data must allow for constant and real-time updates. After all, we're talking about users that interact in different ways with your company. It's not possible to treat them as static beings and fit all of them into a specific category.
In the case of social campaigns, the uses of first-party and CRM data are related to the creation of custom audiences, including segmentation or targeting.
These audiences must fit your first-party data and the way you analyze your activity and audience.
The information extracted from your CRM is certainly unique in a way that there are not two companies with the same kind of information about their activity and their consumers. That's why you must adapt your strategy to your own data and avoid copying other businesses because what works for them, might not work for you.
So, what can you do to improve the performance of your social campaigns?
In order to create successful social campaigns you should:
Find customers from different media sources in order to collect their data in a direct way, e.g. CRM. This way, the information gathered from the individuals is more complete and allows you to understand their customer journey. These sources include new media formats such as podcasts, Connected TV and other devices.
Have the capacity to think in the long term and find customers that will stay with you over time. This way you'll have first-party data that won't expire as fast as third-party cookies.
Realize that CRM data also includes offline sources such as phone calls or information collected in-store from customers.
Connect the information about spend and sales and be able to track the results to have reliable data on your customers.
The marketing world keeps changing and we need to adapt to the constant changes to improve our results. What we know for sure is that first-party data is here to stay and it's time to focus your efforts on leveraging this highly valuable asset.
Do you have any questions about the applications of CRM data? Let us know here!
Why should first-party data be used dynamically?

First-party data is information that comes directly from your consumers and audience and should be processed in a dynamic way due to the constant changes and updating that suffers in order for it to be reliable and accurate.
Is CRM data considered first-part data?

Yes, it does. CRM data includes information about customers collected from both online and offline sources that they've provided voluntarily.