If you are creating great content, but you still don't see the results you were expecting, don't worry. You are not alone. Marketers often focus on building a great content marketing strategy, but forget about promoting their content. The truth is that no one finds content by accident. That's why every single content strategy needs to be combined with a plan that integrates owned, paid and earned media.
Avoid the silos trap
If a few years ago the main distinction made was between on- and offline media, now this approach is completely irrelevant. Instead, marketers focus on more comprehensive models with content as a cornerstone. Owned, paid and earned are the main categories now. This categorization doesn't take into account whether we are operating in an online environment or not. It is only concerned with the amount and the kind of control organizations have over their messages.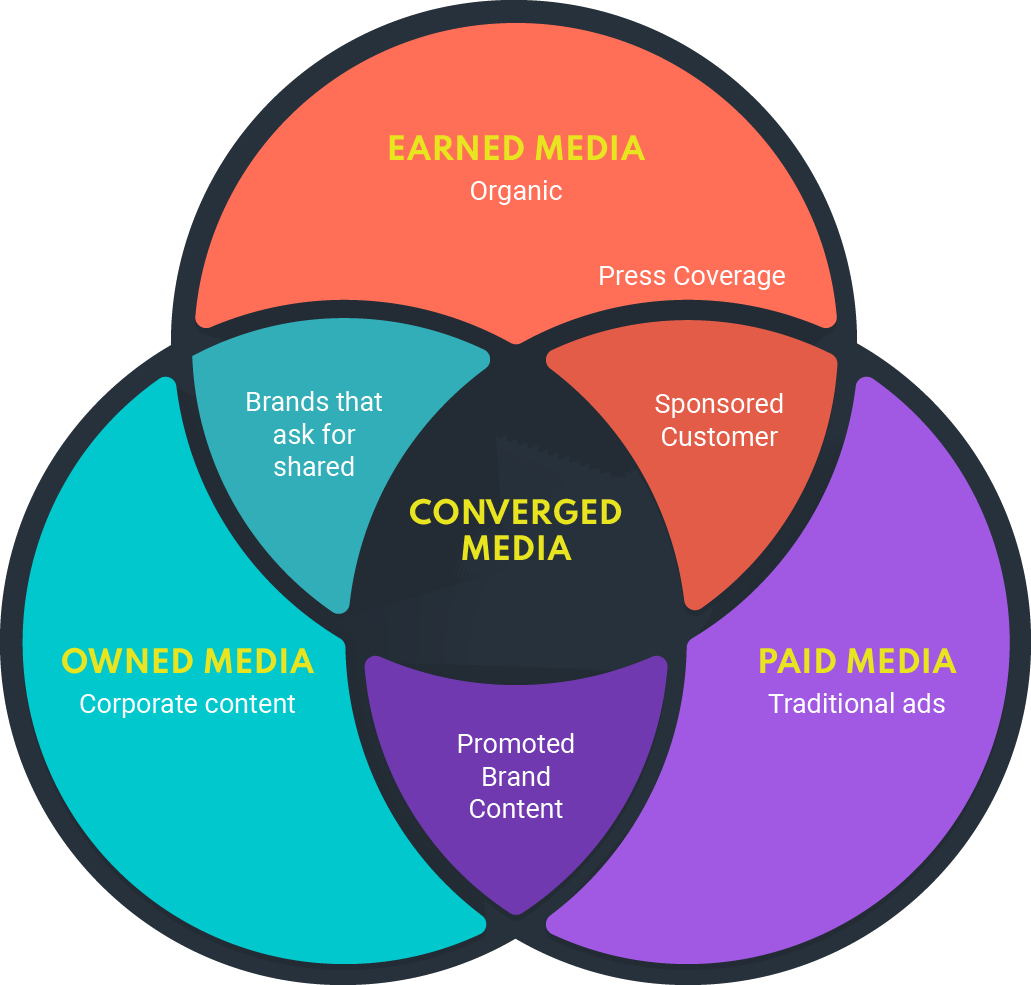 The convergence of Paid, Owned & EarnedMedia
---
Earned, paid and owned are part of the same holistic environment, but they work in different ways within the system.
Owned media: brands and marketers manage their own messages. The company or brand has total control over it.
Paid media: brands and marketers (advertisers) buy and place their ads. It involves third parties, but the advertiser can partially control the content.
Earned media: this refers to all types of communications about the brand. The brand does not control the messages as such.
Another variation of this idea is the PESO model. It contemplates also Shared Media. However, interactions like UGC and shares are still Earned Media, since the community creating the content is also an external source that the brand does not control. A community manager cannot avoid that followers post negative comments about the brand on their own social profiles, por example.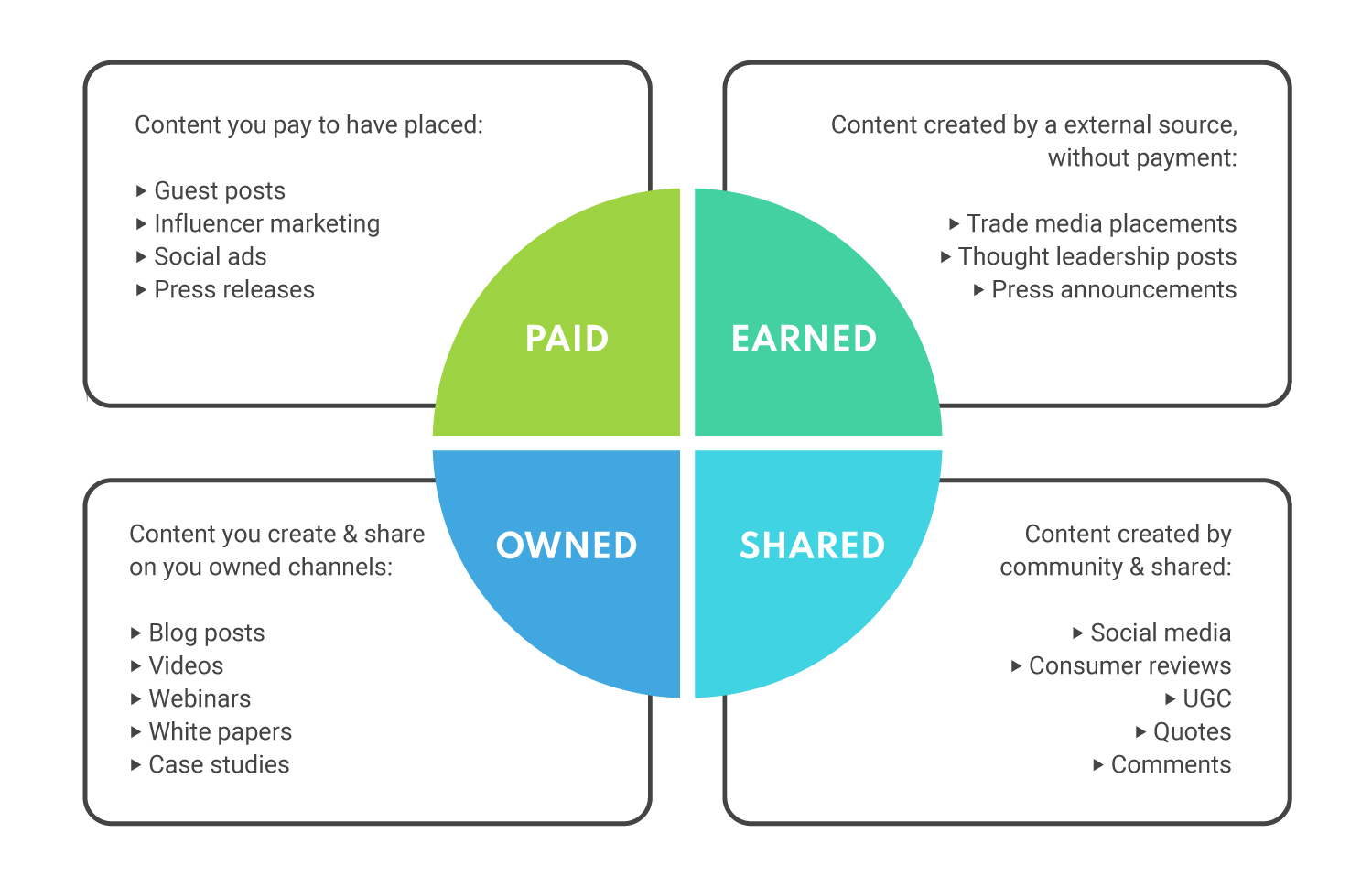 Don't just share content on your social accounts
You have probably heard about this tactic a hundred of times at least: create great content, share it on your corporate accounts and ask your employees and colleagues to share it.
Now, here is a question: have you ever done so? And another one: what happened?
Probably, the results you achieved were very close to zero, right? In an ultra-competitive environment, where everyone writes content, it does not matter how good yours is. At least not at first. If no one reads what you write, the quality is completely irrelevant. It matters when people can actually FIND your content and consume it. When that happens, if your content is mediocre, users are going to ignore it.
So, yes, quality content matters, sharing also helps, but PROMOTING your content is key for your strategy to work.
Build your strategy across owned, paid and earned media
Like we already mentioned in our last article, leveraging owned media is the basis of any content marketing strategy. Like most companies, your brand probably has:
Website and/or microsites
Blog
Newsletter
Social and/or professional profiles
Your goal should be to take advantage of your own content production by developing a plan that promotes it across as many channels as possible. In order to do so, the first thing you need to know is what to publish on every channel. Facebook, for instance, is still very focused on image, while Instagram is becoming more and more video-centric. LinkedIn and Twitter, however, are all about facts, articles and statistics.
In other words: you need to adapt your content to every channel and let your audience know that you are there by advertising it. Social and search ads will be your best ally here.
However, once you start building communities and seeing traffic, you will need to work on your engagement. Engagement is not only about whether people like the content or not, but also, about you interacting with your audience. Comment, share, reply to DMs… And the sum of these efforts will translate into shares, mentions and, in general, visibility on third party media. This will bring more and more visitors to your own media too.
How can I promote my content?

In order to promote your content across all media, it's important to come up with a plan that combines owned, paid, earned and shared media and specific strategies for each of your social media channels.
How can I build an integrated media strategy?

You can create a strategy that integrates owned, paid and earned media. It's important to create a plan that takes advantage of your own content, adapting and promoting your content across all channels.