It's human nature to seek more information after seeing an ad or promotion, particularly when the product or service is more expensive or purchased less regularly. The travel industry in particular has customers who like to compare destinations, hotels, apartments, flights and cruises before making travel plans. It is one of the most decisive stages in the customer journey, but not the only one.
Messaging is different at every stage of the purchasing process, which is why a detailed map is necessary.
Understanding the travel customer journey
A travel industry customer journey differs from a regular journey map. It's crucial to take into account all the actions the customer makes, from the original idea of traveling to searching for information to a final review after arriving home from the trip.
We can divide the travel customer journey into three main stages:

Pre-travel journey
In this first stage, the customer hasn't yet booked a trip. This step includes three different processes:
The dreaming or inspiration stage. This typically happens when people are going through their Instagram feed and see a picture of a friend vacationing on the beach, or a TV travel documentary, or looking through photos from past trips. This process impacts such travel journey decisions as where to go, when, or specific accommodations.
Planning stage. This part of the customer journey is perhaps the most decisive stage and is where companies usually focus most of their attention. Competition is strongest at this stage and companies try their best to capture the attention of potential customers with different methods and strategies.
Booking stage. Here, people have already made up their minds about their destination, means of transport and additional activities and are ready to make the purchase. It's important to know how the users make the booking. Nowadays, 83% of US bookings are made online, with mobile devices increasing in importance. According to Think With Google 79% of travelers in the US completed the booking process via mobile devices in 2017 – a number that has risen since.
In-travel journey
Some businesses believe that this part of the customer journey is not as important. The reality is that the majority of travel activities are booked during this process, such as reserving a restaurant table or booking tours. Other aspects such as excellent customer service or offering additional discounts or deals are crucial to provide your customers with the best experience and increase loyalty to your brand.
Post-travel customer journey
What happens after customers have enjoyed their trip and are back home? During this stage, marketers need to focus on increasing loyalty, engagement, and, most importantly, retaining customers for future travel.
The first step in the customer journey mapping process is knowing your audience inside out.
Do you know who you are talking to?
Here is what we already know about your customers and/or clients:
Most people find ads annoying. This is not great news. Around 47% of people globally use an ad blocker, so it's necessary to consider working with more accurate targeting methods or event-targeting niches.
Although the customer journey is fragmented, consumers always want to find out where to find the best trips, holiday features and prices. They also want to know what other people think about previously completed trips, cruises or hotel stays. Analyzing searches, social media activity and reviews is crucial to understanding consumers' behavior.
Attention is not enough. Engagement is what you are looking for. 2020 forced travel companies to focus their efforts on retaining customers by increasing engagement to minimize the effects of the Covid-19 pandemic, such as offering content that users found interesting or useful. Constant interaction with the audience was essential. Engagement, trust and reputation are closely related, so travel organizations need to work on these three fronts at the same time.
Consumers want personalization, which means gathering and analyzing data in detail.
The travel industry is based on providing the best experience to customers, so appealing to their emotions is crucial when communicating with them.
The first interaction that people have with travel companies is via the Internet. Whether it's searching for information, recommendations or booking-related activities, we live in a digital environment. Being present online and improving digital usability is a must.
5 top factors in travel customer journey mapping
1. Individual customers matter
As we've noted, people don't want irrelevant ads. Mapping all touchpoints and all interactions that individuals have with your brand is a good start.
By mapping the travel customer journey, marketers can measure campaign and strategy results and design more personalized customer experiences. This way, they will also take into account individual preferences and problems that potential travelers may have. It's critical to pay enough attention to niches or risk losing those customers who have not gone through the entire booking and confirmation funnel.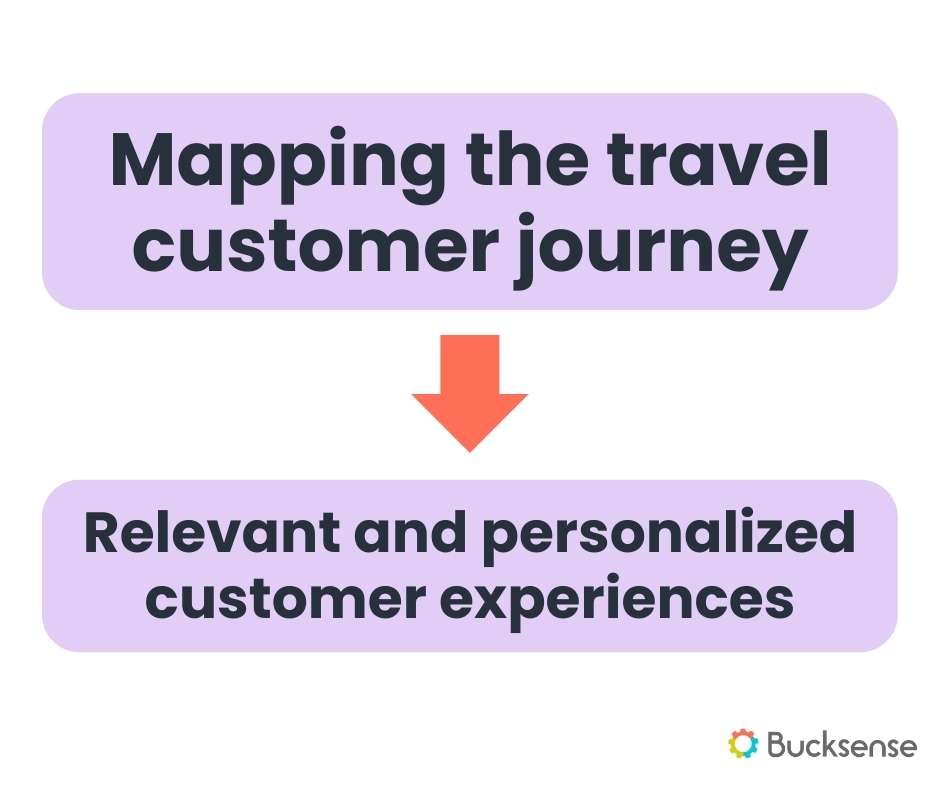 2. Not all touchpoints are the same in the customer journey
Identifying critical points is key to optimizing the whole booking funnel. Do you know which touchpoints are crucial to achieve consumer-centric goals and meet customer needs?
Every single touchpoint presents an opportunity to connect with your customers. It is also the first step to start working on increased engagement. Building a solid relationship in the long term requires understanding what is more important to your customers and delivering the experience or the information they are looking for.
3. Understand the buying stages
As with touchpoints, not all buying stages are the same. Mapping the entire customer journey will result in a high quantity of data that will ultimately help you and your organization understand how consumers behave throughout the whole booking process. Also, it will help you identify those stages that need to be optimized to make things easier for your customers. Crucially, you can correct mistakes and to validate your work so far.
4. Personalization, empathy and engagement
Working on more personalized experiences and making things easier for your customers will increase engagement and empathy and therefore brand loyalty. Mapping the customer journey will give you get a better understanding of your customers and improve the booking process.
5. Effective booking processes
A well designed, optimized, easy customer journey will mostly result in more bookings and purchases.
Still, you should be aware that awareness and consideration alone do not always lead directly to a booking, which is why engagement is necessary throughout the whole journey. Understanding where your customers need more support or information will not only help generate engagement, but also make it easier for you to know how to guide users toward the final step of the pre-travel journey.

Are you going in the right direction?
Mapping the customer journey will help you:
Understand critical touchpoints
Optimize buying stages
Deliver a better, tailored customer experience
Create engagement
And therefore guide customers toward booking
Is your travel strategy working? What else do you need to work on? Are you taking into account all the relevant channels?
Contact us to learn more about mapping the travel customer journey.
What are the stages of the customer journey in the travel industry?

The stages of the travel customer journey are divided into three main steps: the pre-travel stage, where the user gets inspiration, information and books the activity; the in-travel stage that occurs when the trip starts; and the post-travel stage, which begins when the user finishes their trip.
What are the benefits of mapping the travel customer journey?

Creating a customer journey map is crucial to understanding critical touchpoints, providing a better user experience, improving engagement and optimizing the buying stages to ensure bookings.