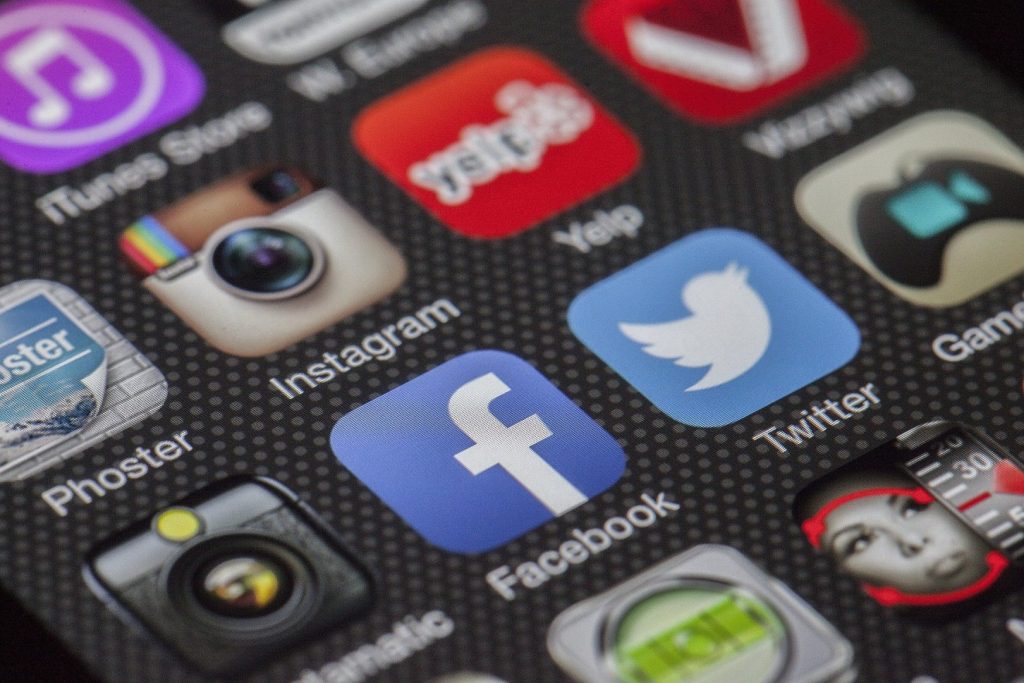 Most brands want to be on social media. In fact, one of the first marketing steps new brands make after creating their website (or even before) is to open accounts on Facebook, Twitter, Instagram, LinkedIn and the rest. The power and reach of social is well known – around 4.89bn people use social media – so it makes sense.
But wait a minute. Setting up a social account is easy – making it work for your brand is a little more challenging. You may notice after some time that your brand is not getting the engagement or reach that you'd hoped for. Customers are not looking at your feed in large numbers. They are not interacting. They are not buying.
There are many reasons why this happens, but an important one is the choice of platform. It's common for brands to post content on multiple social media sites on the logic that Internet users tend to have an average of 6.6 social media accounts. If you post on all of them, your content is sure to be seen, right?
Maybe it will be, but that's not the same as engagement. You want your audiences to stop, read and consider your content, ideally acting on it. You want audiences to follow you, anticipate new content, share it and react to it. How do you do that?
Your social media foundation
There are few things to consider before opening any social media accounts and certainly before creating any content. Your website is the digital core of your business. It's where you want your audiences to come and it defines your brand identity (including tone of voice). Ensure that you have the website built, ready and perfect because you'll be basing all other digital marketing efforts around it.
Next, define your marketing goals. What do you want to achieve? Are you building brand recognition? Are you looking for leads? Are you creating awareness? Are you providing support or information? Is thought leadership the main aim? Your goals will dictate not only the type of content but also the platform(s) you choose. Set specific KPIs for what you want social to achieve – not just number of followers or likes, but number of leads or sales.
What is your business type? For example, a new or small business will probably want maximum reach for minimal effort and cost. Is your brand highly visual (e.g. lifestyle or clothing)? Are you B2C, B2B, D2C? Are you offering a product or a service? Is your brand aimed at a general audience or do you create niche items targeted at highly specific audience segments?
Answering such questions will help to start thinking more strategically about the right social media platforms for your brand. The next questions will refine it even further.
Know your social media audience
We know that most people use social media, but it's not so simple. Someone with accounts on LinkedIn, Facebook and Instagram does not visit those different platforms expecting to see the same content on each. We use social media for distinct purposes, in different ways and even at different times.
You need to know your audience demographics. What is the gender mix? Where do they live? How old are they? What is their average income? What else do they buy while online? These factors help to define which social media apps they may be using so that you don't waste time and effort posting the same content everywhere.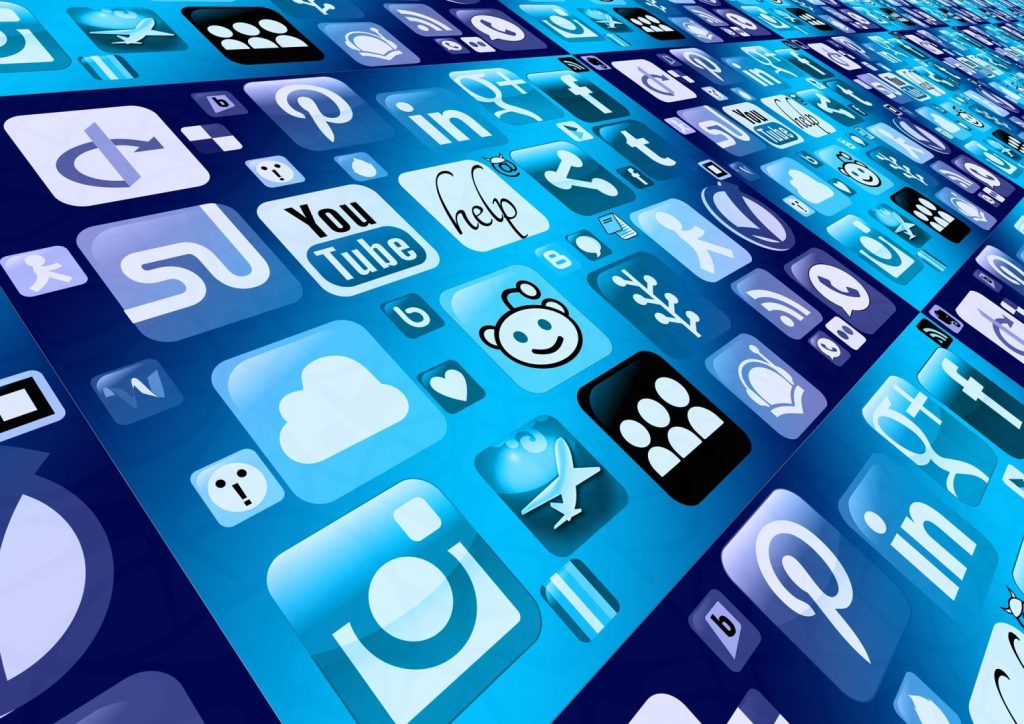 Know your competition
Your competitors are targeting the same audiences, so you can look at how they do this – and with what level of success. Which platforms work for them and what kind of content is getting the best reaction (e.g. most likes, most comments)? How often are they posting?
This will give you some ideas, but it doesn't mean you should simply copy the competitors. For example, they may be doing badly on Instagram because their content is poor quality or inconsistent. That's not a problem with Instagram, which may be where most of the target customers are.
Understand social media platform personalities
This is the essential part. Think of the different social media platforms as people you know. There could be introverts, extroverts, partiers and thinkers, the badly dressed and fashionistas. The conversations you have with these people –­ the language and references you use – will be different for each one.
Many brands make the mistake of posting the same content across platforms. That's like talking to Dave the accountant about sequinned Louboutins. Maybe Dave secretly wears sequinned Louboutins, but he's not going to discuss that with you in Starbucks. Place and personality matter. Let's look at some of the main social media platforms and why you might choose them:
WHY CHOOSE FACEBOOK?
The largest social media network with 2.9 billion users.
More popular with older generations: 40% are aged over 65.
More emotionally focused – a place to talk to friends and family.
Used for news and updates, usually with photos and text.
Good for B2C companies seeking more visibility.
Good for customer support and information.
Audience: 56% male, 44% female.
84% of US millennials use Facebook.
Hashtags less effective than on other platforms.
AVOID obviously "salesy," corporate or formal content.
WHY CHOOSE LINKEDIN?
Huge global reach with 900 million users.
Designed specifically as a business and professional networking site.
Users come for information, learning, expertise and to research businesses.
Excellent for B2B companies to reach target audiences.
Audience: 56% male, 44% female.
20% of users aged 18-24; 60% aged 25-34; 2.9% aged 55+
Hashtags can boost reach.
Good for establishing thought leadership and recruiting. employees
AVOID personal, frivolous or emotional content
WHY CHOOSE YOUTUBE?
868 million global users.
Video based content.
Great for building brand identity, instruction video, guides and showcases.
Works for B2B and B2C when linked to brand website or other social feeds.
Used primarily for research, learning and entertainment.
Audience 54% male, 46% female.
15% of users aged 18-24; 21% aged 25-34; 17% aged 35-44; 12% aged 45-54.
AVOID too short, too long or poor-quality video.
WHY CHOOSE TWITTER
Great potential reach with 330 million monthly active users.
Used for ongoing conversations, trending topics, updates and news.
Good for customer support, feedback and information – especially new or current.
Opportunities for humor with short posts (max. 280 characters).
Audience: 68% male, 32% female.
7% of users aged 13-17; 17% aged 18-24; 38% aged 25-34; 21% aged 35-49.
Hashtags can boost reach.
AVOID primarily visual content, or ensure that the text works equally as hard.
WHY CHOOSE INSTAGRAM?
1.35 billion users and part of the Facebook company.
Primarily visual and image focused, with carousel and video options.
Used primarily for research and entertainment.
Great for eCommerce businesses.
Good for driving customers to websites via links in the bio section.
Allows creativity using simple tools.
Audience 52% male, 48% female.
8% of users aged 13-17; 30% 18-24; 30% aged 25-34; 16% aged 35-44.
Hashtags can boost reach.
AVOID text-heavy content. Most people just look at the pictures.
WHY CHOOSE PINTEREST?
450 million users.
Predominantly female user base (70%).
Based on subject niches (e.g. home decor, gardening, and weddings).
Used to discover new ideas and content.
Great for eCommerce.
Preferred by an older demographic: 40% aged 25-34; 39.6% aged 35-44.
Visually focused but with relevant/informative text in support.
Doesn't use hashtags but specific content labels.
AVOID obviously "salesy," corporate or formal content.
Choosing the best social media platform for your brand
As you can see, each platform has its own demographics and style of content. You should also look into how each performs according to industry sector. For example: sports teams and higher education tend to have some of the highest engagement rates on Facebook, while Instagram has high engagement for higher education and non-profit organizations. Twitter's highest engagement, meanwhile, comes from alcohol-related content.
This does not tell the whole story, however. While food and beverages is one of Facebook's high-engagement industries, Instagram still has a higher rate in that industry (1.78% compared to 0.24%). In other words, a lower engagement rate on one platform may still be higher than a high rate on an alternative platform. The following table from marketingcharts.com gives some idea of the relative differences (interactions per post per 1000 followers across 316,828 brands):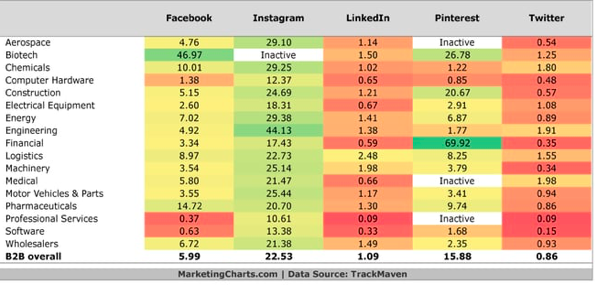 Tailor, plan and measure your social media content
Every platform is different, even if the users are the same people. Your task is to match your content to the platform. For example, a luxury safari company might post an inspiring documentary video on YouTube, a reel on Instagram, a discount announcement on Twitter or some wildlife images on Pinterest. But what about the target demographic? Most of the target audience is probably on Facebook, so perhaps a personal diary-style post could work as a connection to the website.
Social media content takes time to work. Random and half-hearted social media feeds die very quickly. Your content needs to appear regularly for people to notice and begin engaging with it. This means you need resources in place to produce consistent and tailored high-quality material based on clear marketing KPIs. Use a scheduling tool to ensure that your posts go out automatically at the most effective times.
Regular analytics are also essential. Check every couple of weeks or each month which posts have been most successful in generating interest or interaction. Why did those posts perform better? Was it the content? The links? The day and the time they were posted? Use these clues to help shape future content
One final tip: consider email! If someone has a social media account, they also have an email address. One of the best ways to get messages to your target audience is to send it directly rather than hope they see it among the thousands of daily messages they see on their multiple social media feeds.